HuffPost, Sept. 19, 2017 —
VAN, Turkey — The men came unexpectedly, in the middle of the night. Gülmay Gümüşhan was fast asleep in her apartment in the easternmost Turkish province of Van, some 1,000 miles from Istanbul. They were allegedly sent by her estranged husband — a man she was forced to marry; a man who had long refused her requests for a divorce. Most likely, they were sent to scare her, to punish her for leaving him. One held the young woman while another tried to strangle her with an electric cable. Gülmay fought back. Miraculously, she escaped without serious injuries.
I met Gülmay about 20 years later, when she was 50 years old. By then, she had channeled her experiences as a victim of forced marriage and domestic violence into a life of activism. Gülmay has made it her mission to ensure that girls in the villages of Van province don't suffer like she did, by tackling the network of local businesses that support the forced, often underage, marriages of young Turkish women.
According to Gülmay, strict tribal customs normally dictate the life of an unmarried girl here. Her mother was married off at 16, and her grandmother was even younger, at just 13. The legal age to marry in Turkey is complicated by the fact that Turkish laws disagree on where the line is between child and adult. In Gülmay's case, her father did not force her to marry early ― it was only when her more conservative uncle, upon her father's death, took it upon himself to protect her "honor" that a swift marriage was arranged for her. She was 19. But she knew there was a world outside of being a good wife ― and she wanted to make sure other girls knew, too.
I realized that what I was experiencing [in my marriage] amounted to domestic abuse, and I wanted out.Gülmay Gümüşhan
Gülmay's now been divorced for eight years, although she left her husband's house long before ― the divorce process is grueling for women here, especially those who would become single mothers. It can take years to finalize a divorce, in part because of the stigma for both parties and because the husband and his tribe have to be convinced to grant the divorce.
Gülmay's struggles are indicative of a greater problem in the country. Child marriages occur across Turkey, especially in the southeast, where girls are regularly forced, like Gülmay was, into lives they do not choose. According to UNICEF, about 15 percent of girls are married off before they turn 18, making Turkey one of the nations with the highest rates of child marriage in Europe. Others put the amount closer to around one-third of all marriages. But the exact numbers are unknown, in part because many marriages are not officially documented.
Despite improvements in Turkish women's rights over the years, a 2015 survey by Turkey's Ministry of Family and Social Policies shows that about four in 10 women in the country have been victims of domestic violence at some point in their lives.
"I realized that what I was experiencing [in my marriage] amounted to domestic abuse, and I wanted out," Gülmay recalls of the moment she decided enough was enough. Since her 30s, she has been working hard to change how Turkish society deals with forced marriage, especially as it pertains to child marriage.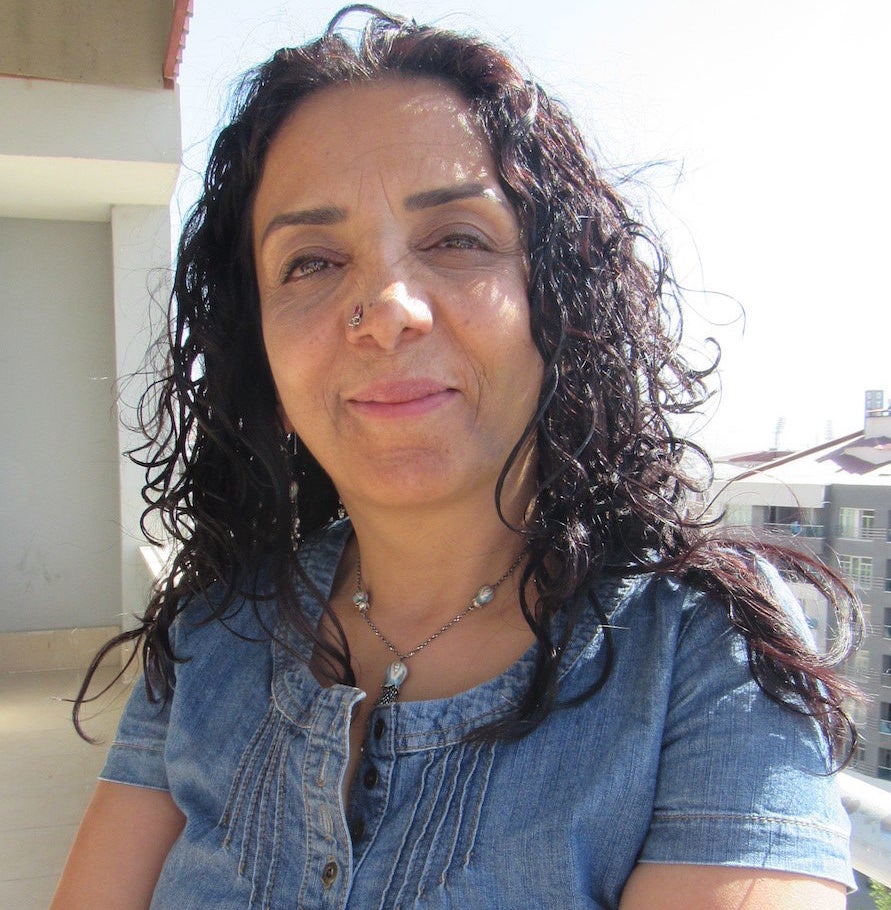 Looking much younger than her 50 years now, Gülmay, a petite brunette, sports a nose piercing and a tattoo on her right lower arm of Shahmaran — a character in Anatolian mythology with a female head on a six-legged snake body and a tail, representing the goddess of wisdom.
When she was 31, and after she had the courage ― and wisdom ―  to leave her now estranged husband, Gülmay joined Van Women's Association, a support group for abused women. In 2002, after identifying the strong connection between domestic abuse and child marriage, she and other group members founded Yaka-Koop, an advocacy group named after Ya(şam), which means "life," and Ka(dın), which means "woman." And in 2013, Gülmay led a seminar on child marriage, organized by Yaka-Koop, in a high school in Erçek, about 20 miles outside of Van.
Teachers there had complained that girls were being taken out of school to be married off. Community members ― from local lawyers and imams to social workers and government officials ― were in attendance.
"In the middle of the seminar, a group of male high school students approached the stage shyly and opened a banner," Gülmay recalled. "It read: 'They Are Marrying Us Off, Too.'" She was deeply moved, she remembered. After years of abuse at the hands of a man, and years of viewing her cause solely as a women's rights issue, she realized that forced marriage, child marriage and domestic abuse affect boys, too. The seminar, the first of its kind in the area, was a great success, she said. Gülmay has since traveled to 77 towns and villages to hold similar events.
Gülmay said this experience has made her realize the importance of reaching out to "the other side" — the men and family members who are often accused of perpetuating the problem. By educating the husbands, fathers and relatives who push for forced marriage of their young girls rather than focusing on the accusatory rhetoric often associated with these parties, she hopes she can help shift the way people think.
Her activism has even managed to stoke friendly rivalry for the cause between muhtars, or village chiefs, in the communities she visits, she said. After one successful workshop organized with the help of a village chief in Tuşba, just outside of Van, a second muhtar in attendance approached her. He said, "If [that muhtar] can bring 50 people, I can bring more." Since then, village chiefs have continued to hold regular meetings to discuss how to prevent child marriages.
"Let's forget the past and talk about what we can do from here," Gülmay said.
Poverty and child marriage is like the story of [the] chicken and [the] egg.Selen Doğan, Turkish activist
According to Gülmay, one of the best ways to tackle the issue of forced marriage head-on is not just to change hearts and minds, but to target the economics of the practice as well.
Selen Doğan, a fellow activist, agrees that economics is at the heart of both the problem of child marriage ― and also the solution to it.
"Poverty and child marriage is like the story of [the] chicken and [the] egg," she said. "Families claim that poverty is the reason they want to marry off their underage girls so that the girls can have a decent life."
Yet for Gülmay and other victims of early or forced marriage, the price of child matrimony, even culturally and traditionally, does not add up. In the traditional eyes, a child marriage can safeguard a family reputation by "ensuring" early on that the family doesn't have to fear for the girl's safety in the long run. This is based on a concern that either a girl will choose the "wrong" person to marry, or that she will fail to marry altogether and "stay at home" and become "evde kalmış," as the Turkish saying goes.
While it's clear that the cultural mindset, however faulty, will take a while to stamp out, one way Gülmay said she can begin to foment change is to convince those who make money from child marriage to participate in the boycott. Local businesses bring in a good portion of their profits from the underage marriage market, she said, and weddings, which are an especially big business across Turkey, are a good place to start. An average wedding costs about $15,000 — a significant amount in a country with a per capita GDP of $10,000. It's been reported that Turkey's wedding industry accounted for $8.5 billion as of 2014. These costs are felt especially hard in areas that struggle economically. Because weddings are such a crucial part of the cultural landscape, businesses will participate in underage marriage, reluctantly or not, to make ends meet. So Gülmay decided to hit business owners where they feel it the most: their pockets.
It's a slippery slope for Gülmay because she understands the dilemma she puts local businesses in when she asks them to refrain from financially supporting the child marriage industry.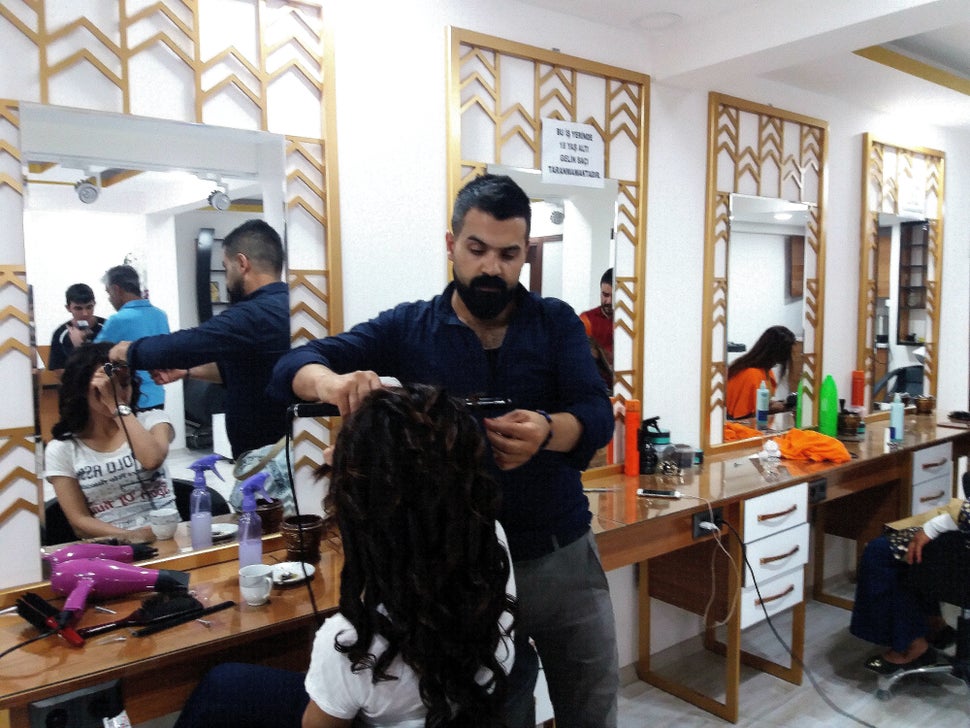 When a survivor of a forced marriage like Gülmay speaks to Van's wedding-related business owners, she is therefore fully aware of their economic concerns. She appeals to their conscience, and discusses why profiting off of child marriage serves nobody in the end, and how it damages Turkey's culture, and future generations, in the long run.
"As a society, we are supporting the marriage of children by dressing their hair, decorating their wedding limousines and selling their trousseau items and wedding dresses. It's important to show our reaction [to this]," Gülmay said.
There are signs that the change Gülmay hopes for is already happening, with a Yaka-Koop campaign aimed aggressively at Van's wedding industry businesses gaining traction, targeting everyone from printing presses, to barbers, florists, tailors, dowry sellers, furniture makers, caterers, wedding singers, and more. The local initiative is called "Evlendirmiyoruz! Eğlendirmiyoruz!" a phrase that translates to "We Are Not Entertaining! We Are Not Marrying Off!" The slogan was coined, most appropriately, by Gülmay's own mother, a victim of forced marriage at 16, who is also actively combating the practice. The campaign evolved four years ago, when organizers reached out to wedding hairdressers.
Gülmay and her mother hope that more barbers in Van will soon be keen to support the campaign, like those who refuse to offer shaving services to underage grooms. Next in line are jewelry businesses, some of which are eyeing to join the cause, they said. Gülmay said she has also been organizing an upcoming concert in Istanbul by Rojin, a Turkish-Kurdish pop star, to boost the anti-child marriage campaign outside of Van.
But not everyone Gülmay approached has been on board.
"We met resistance from wedding singers and entertainers when we first went to see them," she said, discussing the economic consequences of lost business for these self-employed musicians. "Then we held the same talks [with entertainers] that we had with hairdressers."
Veysel Koç is the president of the local hairdressers' association. His own mother was married off at the age of 12. At first, he was reluctant to support Gülmay's campaign with Yaka-Koop. But as the campaign took off, he came around.
"We are determined to do our bit in order not to repeat the mistakes of the past, because these are our children," he said.
As a society, we are supporting the marriage of children by dressing their hair, decorating their wedding limousines and selling their trousseau items and wedding dresses.Gülmay Gümüşhan
Gülmay said she has so far managed to convince dozens of hairdressers, wedding entertainers and caterers in Van to refuse to offer their services to weddings where either the bride or the groom is under the age of 18.
Sinan Pülat, 35, heads Van's chapter of an association that represents chefs, many of whom cater weddings. Today, these chefs are refusing to take part in underage weddings, thanks to Gülmay. Sinan has an 11-year-old son. He supports the campaign because he wants his son to grow up under better circumstances.
"Kids, both boys and girls, grow up quickly in this hot climate," he joked, commenting on how common child marriages are in Van province. "[Weddings here] last three days and are attended by thousands of people," he said. He plans to ask the association members to put up signs that read: "We are not catering for child weddings."
S.B., a woman who asked for her full name not to be used, is one of Gülmay's success stories. She lives in the poorest district of Van and was married off at the age of 12 to her cousin, who is 15 years her senior. By 14, she had her first baby. Now 32, she has nine children.
"She had nowhere to leave her then six kids, so they came with her to the classroom and played while she studied," remembered Gülmay, who first met S.B. at a Yaka-Koop hairdressing course six years earlier. They parted ways and Gülmay didn't hear from her until recently, when she appeared at the latest round of hairdressing courses. Using her newfound hairdressing skills, S.B. had set up a home business and was thriving.
"I want to have my own salon one day," she said, her eyes glittering with ambition.
For Gülmay, S.B. is proof that change can happen, and that initiatives like hers are helping.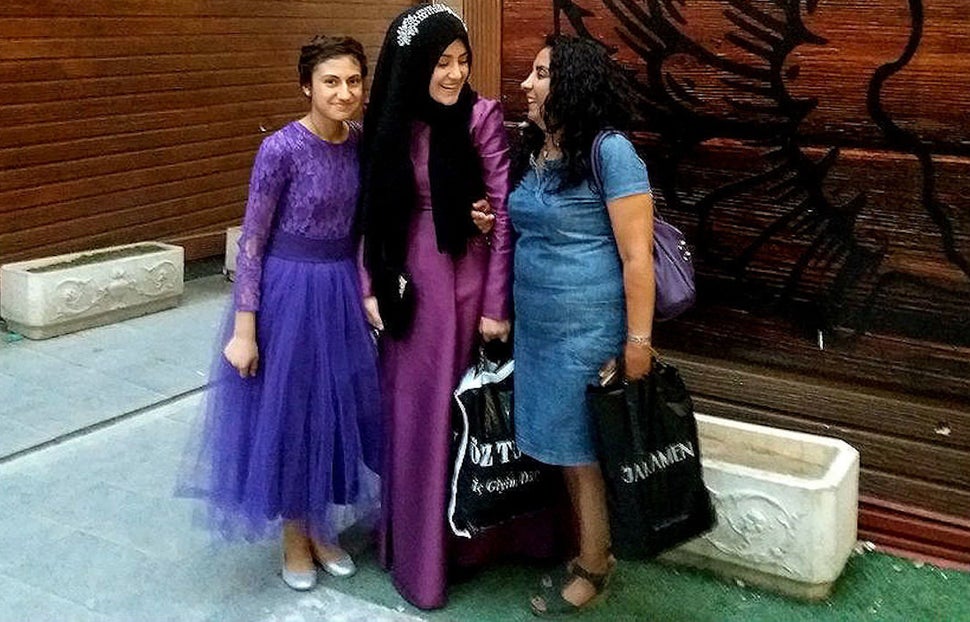 It's the middle of summer — the peak season for village weddings ― and Gülmay stops by a hair salon run by Ali İncili. One of his nieces was getting married over the weekend. As Gülmay and Ali greet each other, Ali proudly displays the sign attached to one of the mirrors at the center of his salon.
It reads: "In our premises, we do not offer hairdressing services to brides under 18."
Seeing the sign, Gülmay contemplates how far she has come in the three decades since her own marriage.
When she woke up after that horrific night years ago, she had decided to try to move on the best she could given the circumstances. She had composed herself, done her hair and makeup and set out for another city that very same day.
Looking back, Gülmay says she can never forget the abuse she suffered regularly during her marriage, leading up to that fateful night years ago in Van, where she still lives. She has escaped her own nightmare. But she knows she was lucky and that things could have turned out far worse for her. She hopes her efforts will eventually mean an end to these nightmares for young girls here in Van and in the rest of the country.